The company
Today, FDTech employs over 150 experts from the fields of IT, mathematics, cognitive psychology and engineering at three German locations.
Our employees come from 17 nations and bring not only concentrated expertise and individual knowledge, but also a lot of curiosity and diversity to the team. We live an inclusive culture of open doors, with flat hierarchies and authentic, trusting interaction - creating an environment for intrinsic motivation, where potential can unfold and innovative ideas can emerge.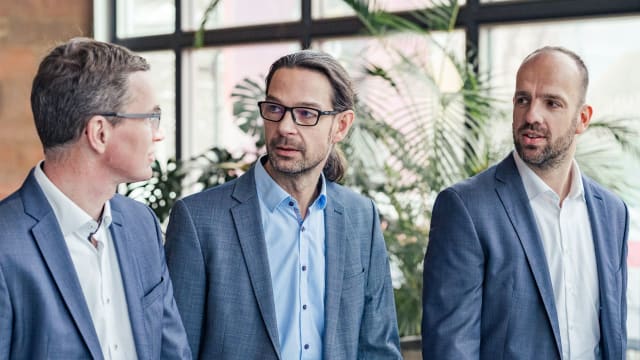 Three people of a special kind
For our founders Marcus Wilsdorf, Bert Auerbach,
Silvio Woltmann, René Röllig and Karsten Schulze, automated driving was a lived reality when it was still considered science fiction by the masses. After successfully shaping and advancing the topic in various positions for over two decades, they went independent in 2017 and founded FDTech.
What started as a five-person team of experienced managers has developed into a medium-sized player that continuously sets impulses in the industry.
Vision
Our goal is to make autonomous driving possible for everyone, everywhere and at all times.
A modern society on the move demands individual, convenient mobility solutions - including groups of people who have been denied participation until now, whether due to physical impairments or geographical circumstances.
Our agile, holistic approach and the high degree of innovation of our components inspire our customers, provide impetus in a dynamic market and make us a driver in the field of sustainable, future-proof mobility.
Be part of this vision
Values & Culture
Our corporate culture is based on community, trust, team spirit and the willingness to grow together. In addition to a sense of performance and hard work, integrity and attentiveness are among the cornerstones of our interaction.
We maintain open, respectful and vulnerable communication, learn from mistakes and benefit from active exchange with our colleagues and partners. We are proud of a corporate climate in which everyone with individual strengths and weaknesses is welcome, we support each other and motivate each other to new perspectives.
Our values in detail
Our organization structure
The unique skills and areas of experience of each individual employee are at the heart of FDTech. We actively promote potential and rely on agile corporate structures.
In our individually composed project teams, we work on concrete tasks of our customers. In the Center of Competences (CoC), we research and experiment in a creative think tank environment and expand the spectrum of possibilities through the exchange of competencies. In addition, each of our employees is part of his or her established team, in which the personal development of each individual is the focus.
Through these highly flexible organizational clusters, we nurture each individual in their current position, enable exploration of new roles, and create ever-changing, highly effective communities.
The individual development of our employees results in strengthened teams and, as a result, efficient workflows and solutions that are greater than the sum of their parts.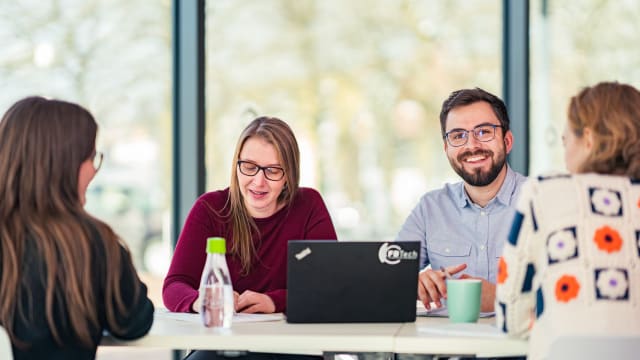 Meet the whole team and convince yourself
We are a dynamic and modern company with a lively organisation in which each individual can help shape the company and bears responsibility.
Meet the team
Partnerships
Fair and respectful cooperation with our competitors is an important part of our corporate philosophy. Interdisciplinary exchange with partners from all areas of autonomous driving makes it easier for us to navigate the often unfamiliar terrain of a highly specialized market.
Whether universities, municipal companies, parking garage operators or car manufacturers - we find interfaces, form alliances and share our know-how. We support each other in recruiting new employees, strengthen the location and build sustainable networks - for synergies on the fast pulse of time!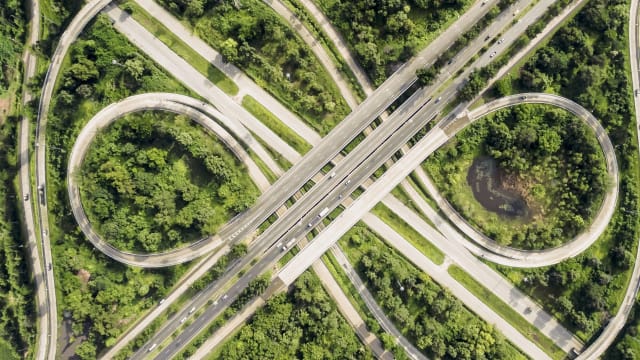 Locations
FDTech is currently represented at three German locations. Besides our headquarters in the founding location Chemnitz, we work in our offices in Munich and Weyhausen, near Wolfsburg.
With this territorial positioning we are present at the most important German hubs of the industry and guarantee short distances for meetings and coordination processes with our clients.
Contact us