21.03.2023
The FDTech Robocar project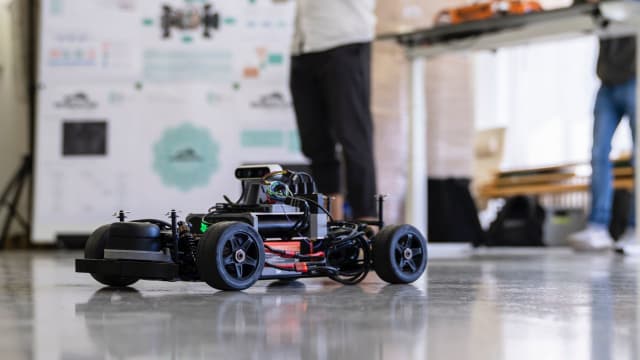 Tech companies like FDTech often face the challenge of making their work and projects visible and tangible to outsiders and newcomers.
The conceptual work is usually not as visible as the implementation on real vehicles. In order to face this challenge FDTech has decided to start the RoboCar Project. With this project we want to offer FDTech and its employees a platform for innovative development.
Starting with sensor technology, the basics of driving dynamics and software programming up to software implementation, simulation and communication with the environment, a complete autonomous driving stack shall be covered. Thus, on the one hand, developers can expand their understanding and know-how and evaluate it on hardware components that can be experienced.
In addition, RoboCar supports talent and customer acquisition, creating trust and visibility of FDTech's competencies. Every employee with motivation and interest is welcomed in the project team. Individual requirements can be addressed in the definition of roles and responsibilities. To ensure the best possible outcome, the team is organized in an agile framework, that supports transparency and communication. The goal of the RoboCar project is not only to achive a cross-company understanding of the development steps and technology behind autonomous vehicles, but also a first hardware simulation of the behavior of the virtual vehicle – the virtual vehicle is a complete autonomous driving software stack that FDTech is developing.
In perspective, by assigning a destination on a test field with e.g. highway, suburban and urban areas, the car should drive to the destination completely autonomously and park in a parking space.