04.09.2023
Latest Robocar News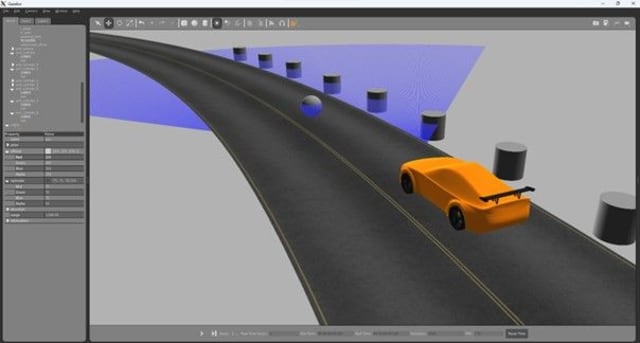 Exciting Update: Leveraging our Self-Made Gazebo Simulation for Advancing Autonomous Driving Functionality for the RoboCar in the ROS2 Framework!
As the autonomous driving revolution continues to gain momentum, our team at FDTech is proud to share a significant milestone in our development process related to the RoboCar. We have successfully implemented and integrated our self-made Gazebo simulation environment to enhance the creation and testing of autonomous driving (AD) functionalities within the ROS2 framework.

Our custom Gazebo simulation environment, tailored specifically for our AD functionalities, enables us to test algorithms already during the development phase. In that fashion, we can spot unforeseen practical problems and handle them before performing actual tests on the RoboCar. Moreover, the simulation provides a way of quickly verifying code functionality and, if necessary, debug the underlying scripts. The initial package we developed with the assistance of our Gazebo simulation focuses on a LiDAR-based automatic braking function. The primary objective is to initiate braking when the LiDAR detects an object that is too close to the vehicle's front. One of the notable challenges we encountered was distinguishing objects on the road from those located next to the road, such as pylons or lane boundaries. At this point, the simulation was very helpful to spot conceptual flaws as well as implementation issues, thereby helping us in refining the braking function and ensuring its effectiveness.

Our commitment to innovation drives us to continually push the boundaries of autonomous mobility. By harnessing the potential of our Gazebo simulation and the ROS2 framework, we are not only accelerating our development process but also elevating the safety and reliability of our autonomous driving technologies.

As we move forward, we are excited to further refine and expand our simulation capabilities, continuously challenging ourselves to create a future where autonomous vehicles play a pivotal role in reshaping transportation and fostering safer roads for everyone.