26.10.2023
Our first BA students and trainees have successfully completed their studies and training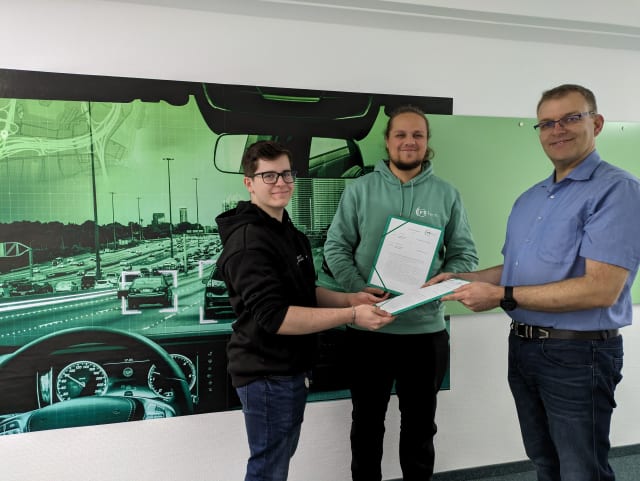 Our graduates from the degree and apprenticeship programs are now permanent employees of FDTech.
In 2020, two students of computer engineering started at the BA Glauchau with us as their practice partner. In September of this year, they successfully defended their final theses.

Oliver Weiß is one of them. He joined us directly after graduating from high school. During his studies, Oliver particularly appreciated the fact that he always had a fixed contact person at our company in the practice.
Oliver says: "The greatest knowledge transfer during my studies took place at FDTech. I always had the time I needed to get to grips with all the study content. At FDTech, I had the feeling that I could study in a protected space and still be close to practice."

Our first two trainees have also successfully completed their training. In 2020, they started their vocational training in the field of information technology for system integration and information technology for application development, respectively. This summer, both successfully completed their training.
Leon Sinkewitz has been our apprentice for specialist information technology for system integration. He was integrated into the IT team at an early stage. He found it exciting to be deployed outside the FDTech training area, which, as he says himself, is a huge playground for learners. Leon answered the question about knowledge transfer during the apprenticeship this way: "The vocational school provided the headlines, then FDTech provided the content."

Talent, aptitude and a lot of hard work have led them all to success. We say congratulations and thank everyone who accompanied our trainees and students on their way.